--
Hebei enterprises form a group to participate in the CIIE to "scooper" global goods
The scale and number of participating companies exceeded those of previous conferences.
The South Square of the National Exhibition and Convention Center (Shanghai) was taken on November 4.Photo by Hebei Daily reporter Zhang Hao
Hebei Daily (Reporter Feng Yang) From November 5th to 10th, the 6th China International Import Expo (hereinafter referred to as the "CIIE") was held in Shanghai. A total of nearly 3,000 enterprises (units) in Hebei and more than 6,000 people have signed up to participate in the conference, which is larger than the previous five conferences.
Instead of going abroad, Hebei companies have prepared "shopping carts" to buy good things from around the world. The relevant person in charge of the Provincial Department of Commerce said that buyers in Hebei Province basically cover 23 industry types such as wholesale, retail, finance, and manufacturing, and the number of registered small, medium and micro enterprises far exceeds that before the epidemic. Many companies learn about exhibitors in advance and make purchase lists.
Every time it participates in the CIIE, Hebei Grain Industry Group Food Sales Co., Ltd. has gained a lot. This year, they contacted many exhibitors in advance and made detailed preparations for this year's procurement plan. Yu Xiaoming, the company's head of exhibitions, said: "Imported agricultural products are the focus of our procurement. The CIIE not only provides an opportunity to meet old customers, facilitates both parties to finalize orders for the next year, but also builds a platform to meet new customers, allowing We discover innovative products and look for more cooperation opportunities."
The CIIE is not only a platform for trading products and services, but also a stage to promote open cooperation and in-depth cooperation. Hebei organized a delegation to participate in the conference, and what they were looking for were good things from around the world, as well as open awareness, advanced business formats, high-quality projects, and investment opportunities.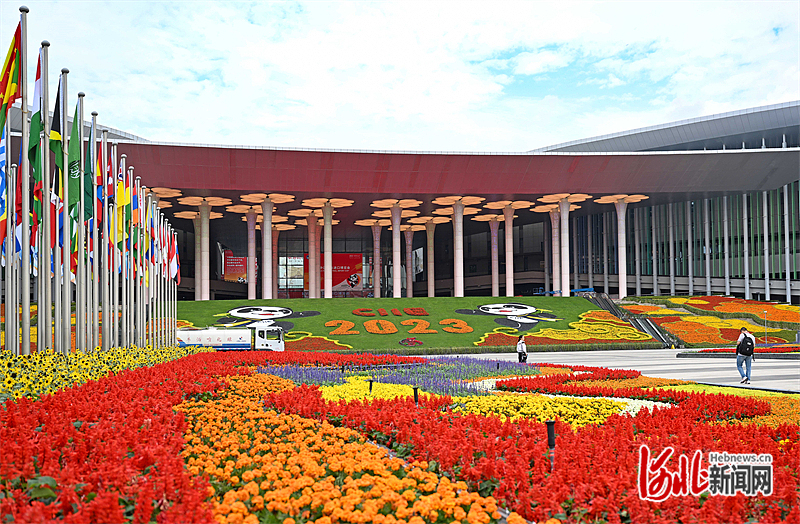 The South Square of the National Exhibition and Convention Center (Shanghai) was taken on November 4.Photo by Hebei Daily reporter Zhang Hao
In order to absorb the spillover effects of the CIIE, Hebei Province will launch a series of investment promotion activities.
The special promotion meeting on building an important national modern trade logistics base will promote the development advantages of relevant industries in Hebei Province and the 2024 Langfang Economic and Trade Fair, and invite well-known domestic trade and logistics companies to participate in the matchmaking, so that more investors can understand the investment needs and needs of Hebei's trade and logistics industry. Development determination.
With the help of the CIIE platform, Hebei held the "Yanzhao Living Room" roundtable meeting outside the province for the first time. The meeting will invite heads of multinational companies investing in Hebei to participate in the meeting to further strengthen dialogue, exchanges and cooperation between Hebei and multinational companies.
Focusing on leading industries such as high-end equipment manufacturing, modern agriculture and biomedicine, heads of relevant departments in Hebei Province will also negotiate with senior executives of General Electric, Pfizer, AstraZeneca, Bayer and other companies to promote project cooperation.
With the theme of "open development", Hebei Province has built a theme image exhibition to fully demonstrate the major opportunities, basic conditions, support platforms, cooperation areas, etc. of Hebei's opening to the outside world. Well-known enterprises in Hebei such as Hebei Port Group, North China Pharmaceutical, and Great Wall Motors will participate in the exhibition. It is worth mentioning that Hebei Province also planned 20 roadshows using the CIIE as a platform and the exhibition hall as a position. The relevant person in charge of the Provincial Department of Commerce said: "Building the 'Hebei Living Room' is a highlight of this CIIE trip. More than 10 high-quality merchants will be stationed at the venue and will carry out 'appointment-based' and 'one-on-one' project roadshows and precise In connection with the cooperation, Xingtai, Zhangjiakou and other cities will also carry out investment promotion."
Tags: scale number participating companies exceed previous Hebei companies organized group participate CIIE scooper global goods_Hebei News Network
-